Our
Facility
Nestled in a small quiet corner of Maple Ridge, B.C. our natural setting with the forest all around us brings peace and serenity while working with the horses and people here.
We have 8 large paddocks for boarding and housing horses for training, an open all weather sand arena for the majority of training and practice and a covered arena for those rainy days. We also have brand new in 2021 some all weather forest trails to practice riding on for when you finally want to go out and about.
Trail Riding
And Training
On our property we have a few all weather trails to practice on to get ready for the day when we get out and about on the vast public trail system that we have. This is beneficial for new learners to horses and riding along with when we train horses to ride outside of the arena.
Having a controlled trail system on the property reduces the risk of a horse running off or causing a safety issue with the public. We're also right at home and all their friends are here to give them some encouragement!
Obstacles, Activities
And Horseback Archery!
We do all kinds of activities here at Stable Horse Training to work with both people and horses to get everybody more flexible with riding and working together. From obstacles like barrels, bridges and pool noodles aplenty to name a few, we also work on horseback archery!
Each activity and game that we learn, practice and hone to a level of comfort and fun, is designed to continue to reinforce the relationship we hope to have with our horses. This relationship is built on trust and growth together for what we hope are unlimited opportunities!
Our Store
Our store is where you can purchase lessons or maybe a mug or hat that we sell to go towards the care of the horses here. Please check it out!
Horse Training And Boarding
On Site Training Per Month
Off Site Training Per Hour
Please meet our beautiful horses here at Stable Horse Training. We have five currently and they are all amazing, friendly and have their own wonderful personalities you have to see in person to fully appreciate and enjoy.
Make an appointment
Get in touch
Please feel free to contact us at anytime via email or during business hours via phone or text. We'd be happy to answer any questions you might have!
Graeme Bull
Hi! My name is Graeme Bull and I'll be your horse trainer today! Welcome to Stable Horse Training, a facility that has been running now for over 5 years at this location. I can help you build a stronger and more trusting relationship with your horse while working on all kinds of things that both you and your horse might be struggling with.
From basic groundwork to advanced movements on a lead or in liberty we'll start out making sure we're comfortable and safe on the ground. From there it's off to riding where we take advantage of both of our arenas here and the all weather trail system on the property. I'll help you through each step of training and educating you and your horse in safety.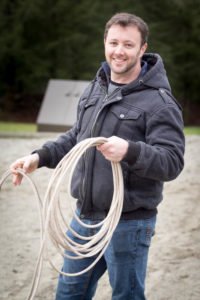 Check Out Some Of Our Videos!
Enjoy our horses in 360 video!
Featured Video Of The Month of July 2021